Title Small Text
Future Business Leaders
Build your skillset. Learn by doing. Prepare for business school.
Simon Business School's virtual Future Business Leaders Case Competition is an exciting event with a number of amazing benefits. As a participant, you will:
Learn and refine skills such as problem solving, critical thinking, communication, and more.
Gain experience worthy of adding to your résumé.
Receive an introduction to the Experiential Learning approach, a common teaching methodology used in graduate business schools—including Simon.
Obtain insight into the graduate business school experience.
As an added bonus, there is no cost to participate!
Format and Timeline
| Event | Date |
| --- | --- |
| Information Session | September 23 |
| Prep Session | October 12 |
| Case Memo Due | October 28 |
| Finalists Announced | November 2 |
| Finalist Presentations | November 12 |
| Winners Announced! | November 15 |


The entire competition is virtual, making participation convenient and hassle-free.
We begin with an information session to introduce the details of the event and follow that up with a prep session to get you ready for the competition.* After receiving access to and reviewing the case, you'll submit a memo that is evaluated by a panel of judges. Finalists are then selected to present their memos live to the judging panel, and the winners are announced shortly after.
*While we strongly encourage you to attend the information and prep sessions, attendance is not required to participate in the competition.
Registration
Information Session

Registration Open: August 15 – September 23

Prep Session

Registration Open: September 23 – October 12

Case Competition:
Case Memo Submission

Registration Open: October 12 – October 27*

*Registration closes October 27. Memos must be submitted by 11:59 p.m. ET on October 28.
Prizes
Competition winners will receive:
$250 cash prize
Trophy and Simon swag
All-expense paid trip to Rochester to tour campus and meet 1:1 with representatives from Simon's Benet Career Management Center, Office of Student Engagement, and Admissions Office
Additionally, competition winners who apply to one of Simon's full-time MS programs by January 5, 2023 and are admitted will receive:
Guaranteed $20,000 scholarship
A guaranteed invite to participate in Scholarship Competition.
All other competition finalists will receive:
Travel stipend and hotel stay to visit Rochester for a campus tour and a 1:1 meeting with an Admissions counselor
Priority consideration for admission
Additionally, competition finalists who apply to one of Simon's full-time MS programs by January 5, 2023 and are admitted will receive:
All competition finalists will receive a prize, so don't miss out!
Eligibility
This competition is reserved for graduates planning to begin their full-time specialized master's degree in Fall 2023 as well as current undergraduate juniors and seniors.
Candidates may participate even if they have not yet started or submitted an application to Simon.
Past Future Business Leaders Case Competition winners are not eligible to participate in future competitions.
We welcome students from all undergraduate disciplines—there is no need to be a business major or to have experience with quant and analytics. We just ask that you come with a willingness to learn!
Fall 2021 Winner Highlight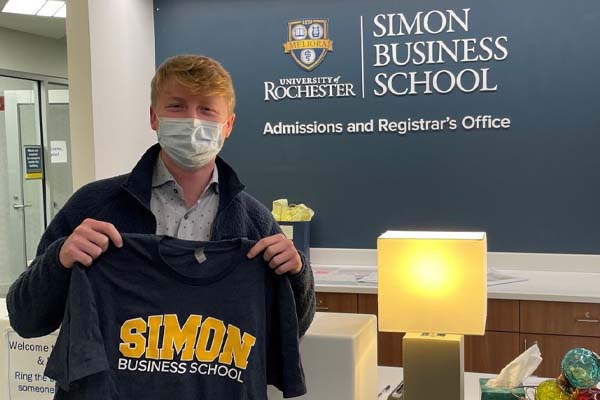 "The Future Business Leaders Case Competition was the perfect opportunity for me to apply my problem-solving skills in a real-world scenario while learning more about Simon Business School and its approach to experiential learning. The case gave me a better idea about how Simon would prepare me to strategically solve business challenges, while leveraging my analytics and communication skills in the future.

I would highly recommend that any student interested in Simon participate in the case! It was fun, exciting, and I learned a lot about the Simon community along the way."
- Ulf Grosseloh,
Fall 2021 Future Business Leaders Case Competition winner