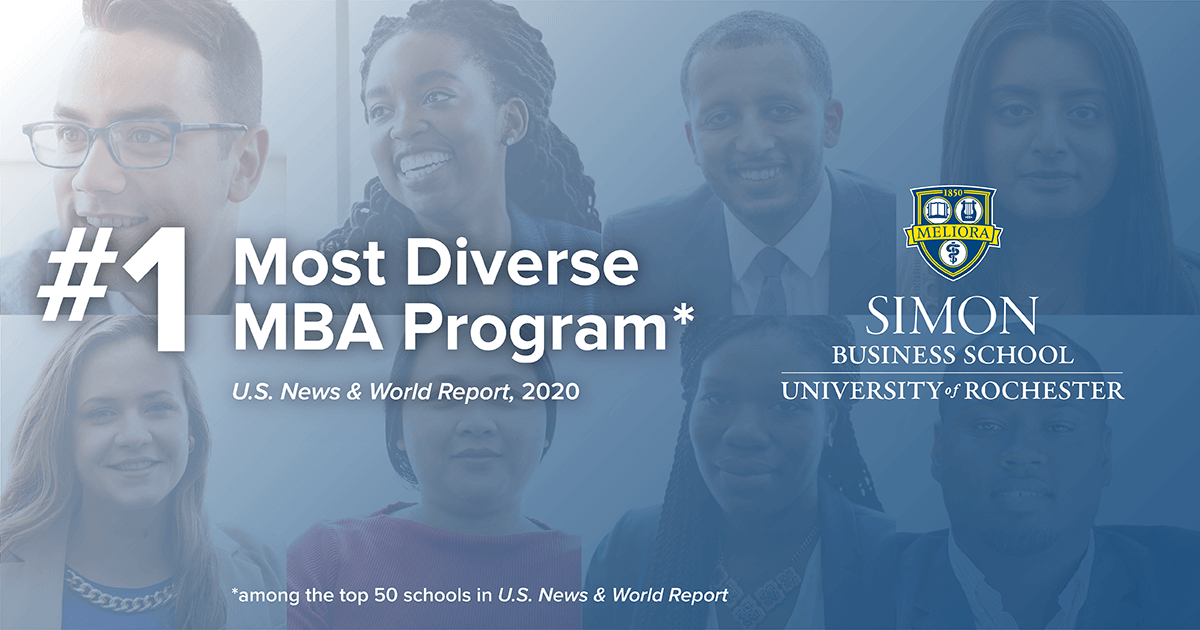 U.S. News & World Report ranks Simon THE MOST diverse MBA program within the top-50 business schools.
 
In a major milestone for a school already renowned for its commitment to Diversity, Equity, Inclusion and Access, U.S. News & World Report has announced that among the full-time MBA programs ranked within the top-50, Simon is THE MOST diverse MBA program (#1) in a list of highly-ranked public and private business schools. The term "most diverse" is defined by the percentage of African American, Black, Hispanic American, and Native American students enrolled in our Full-time MBA program last year. It is important to note that even compared with other large public institutions Simon still tops the list. You can find more information here.
Simon Business School not only boasts a diverse student profile; an essential part of our mission is to foster diversity of thought throughout our wide breadth of curricular and co-curricular activities in order to help develop their students into global business leaders. The Full-Time MBA Class of 2022 hails from 19 different countries; 46% of its domestic students are from historically underrepresented groups, and 42% of its Full-Time MBA students are women.
Simon's commitment to diversity, equity, and inclusion has been long-standing. In 1968, Simon was one of the first schools to join the Consortium for Graduate Study in Management, which promotes diversity among American businesses. We also partner with other organizations supporting students from traditionally underrepresented communities, including Prospanica, Forte Foundation, Management Leadership for Tomorrow (MLT), and ROMBA, to name a few.
Sevin Yeltekin, Dean of Simon Business School, noted that "it is encouraging to see an acknowledgment of our efforts by an objective third party such as U.S. News. As Black History Month approaches, this recognition is even more meaningful. It's also an excellent opportunity to heighten the conversation on this critical issue."
Diversity, equity, and inclusion are values deeply rooted in Simon's identity and are a core part of the school's guiding principles. Dean Yeltekin adds, "While we celebrate this important milestone by U.S. News, we also recognize the work and commitment required to make our school, community, and workplace ever better."