Stay connected to the Simon community
Simon Business Magazine gives readers a detailed look at how Simon's analytical curriculum, research, and intellectual capital are shaping the future of business. Get the latest news about faculty, students, and your fellow alumni—as well as business insights from the experts at Simon. View the latest issue, or revisit past issues here.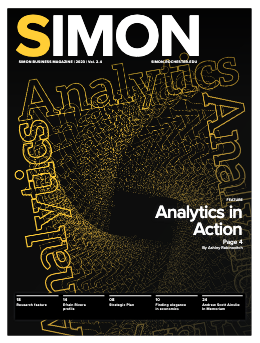 This year's issue features progress on the Simon 2025 strategic plan, spotlights on Simon alumni who are making an impact in the business world, and insights into the role business analytics will play as we enter the era of "Big Data." Also in this issue, Simon faculty, staff, students, and alumni pay tribute to the life and legacy of Dean Andrew Ainslie.
Magazine Archive