Body
Go Inside Simon 2025

Take a deep dive into Simon 2025, our roadmap to maximizing Simon's impact on the future of business.

 
The right skills for the job.
Competition for top talent has never been fiercer. By recruiting from the Simon Business School, you will know you are hiring professionals with the skills and drive needed to make an immediate impact at your organization.
Engage a team of talented business school students to tackle an issue your organization is facing. If your organization is interested in learning about sponsoring a Simon Business School project, please visit this link for more information.
Candidates who are prepared to lead in a diverse landscape.
Our commitment to diversity extends into our recruiting practices. Simon Business School claimed the #1 spot on the 2021 U.S. News and World Report's list of the most diverse MBA programs. Among the Top 50 MBA programs in the country, we educate the highest percentage of Black, Hispanic American, and Native American students enrolled in a full-time MBA program. Go inside our #1 Diversity ranking and find out how our commitment to diversity helps Simon candidates sharpen their competitive edge.
commitment to diversity helps Simon candidates sharpen their competitive edge.
Download our most recent EDI case study below.

Recruiting Calendar
Simon has the right talent to meet your project, internship, and full-time hiring needs—and the right event for your schedule, preference, and location.
Rochester Campus

January 7–March 8
March 25–May24
September 10–November 15

New York City

January 7–March 8
March 25–May24
September 10–November 15
Don't see what you're looking for?
Connect with our team for additional options.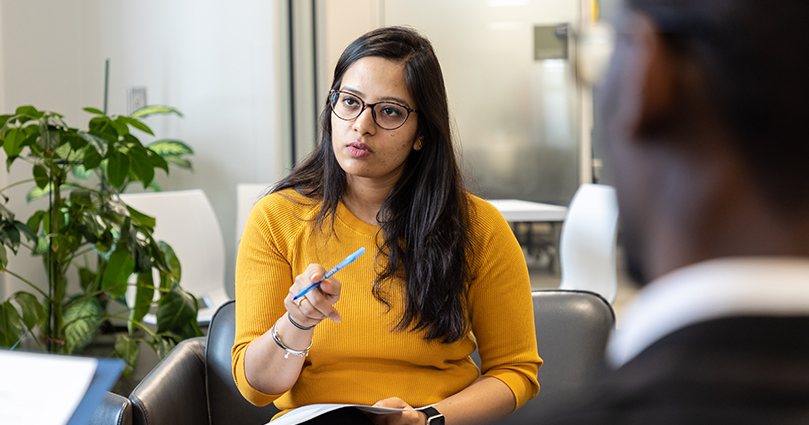 Recruiting Options
Whether it's on campus, virtually, or in New York City, holding informational sessions and/or opportunities with our talent pool is easy and convenient.
Campus Recruiting
The Career Management Center provides a variety of formats and opportunities for companies to connect with students and conduct interviews. We handle the application and interview process from start to finish, allowing you to focus on connecting with a wide array of exceptional talent. We also help manage the communication between students and employers for a process that is easy and efficient for both parties.
Custom Events
We welcome you to visit our campus – we'll even work with you to create a custom event to connect you with our talent. From networking breakfasts and happy hour events to case competitions, student club collaborations, expert panel discussions, and keynote addresses, we are happy to tailor our offerings to fit your needs.
Virtual Recruiting
Can't make the trip to Rochester, but still interested in putting your company in the Simon spotlight? We are happy to offer Virtual Conferencing options. Schedule an event by contacting Ariel Ruggeri, recruiting and events manager, by email or by calling (585) 275-0466.
Corporate Presentations
Holding a company presentation prior to your interview dates gives you the chance to share information about your corporate culture, employment opportunities, and position requirements. Many companies use these presentations to prescreen candidates before interviews.
Corporate presentations may be held as lunchtime or evening events, and the Career Management Center will handle the details. Past events have included themed networking breakfasts and happy hours, case competitions, locally arranged themed events, charitable connections, student club collaboration, expert panel discussions, and keynote addresses.

Hiring international students
To compete in the global economy, companies need smart, competitively trained, global talent. Simon offers a STEM-designated MBA option—the only such program in the country—providing international students opportunities to extend their 12-month optional practical training (OPT) by an additional 24 months. Each of our MS programs are STEM-designated as well.
Scheduling

Please provide as much notice as possible about dates for information sessions, interviews in Rochester or NYC, virtual interviews, and other engagement so we may provide you with the best assistance, service, and facilities possible.

Open Access

We have a diverse student population and seek whenever possible to open up postings to all our students—MBA and MS, domestic and international. Let us know your specific hiring and recruiting needs and we will ensure the right group or groups are invited and have access to sign-ups, postings, and/or schedules.

Last-Minute Cancellations

As possible, please give us ample warning before cancelling information sessions, interviews in Rochester or NYC, or virtual interviews. Depending on the circumstances we can arrange for interviews and info sessions to be conducted virtually, if plans have changed and your team can't make it to campus.

Offers

As a general guideline, we ask that all verbal offers be confirmed in writing immediately after being extended. We encourage students to accept offers verbally and in writing.

Offer-Acceptance Dates

As a general guideline, we ask that all full-time offers extended to second-year MBA students [as the result of a summer internship or fall recruiting] be allowed to stand until at least November 15 and, preferably, December 1. This ensures the student(s) have adequate time to consider the offer thoroughly before making such an important life decision.

Offer Acceptance

Students are expected to stop interviewing with other companies once they have accepted an offer. Students are expected to follow through on their commitments and not change their minds about formally accepted job offers. Please alert us if there are any issues with this.

Professionalism

We expect all students and recruiters to act professionally at all times. Should you have any concerns about any interactions you have with our students, please let us know immediately.
Search candidates.
Register for Handshake, our recruiting portal, to search the resumes/CVs of some of the top business school candidates in the country.