Meet the scholars who will shape the future of business.
Simon PhD students are analytical, creative, and well-versed in solving complex business problems. There isn't a conventional Simon candidate; we help each student maximize their own unique potential.
Inside the Simon Information Systems PhD
Simon's PhD in Information Systems focuses on the business aspects of Information Technology use and management, and the analytic and quantitative tools and techniques to address them. The research conducted by the students and faculty has significantly advanced the state of the art in research on information systems in general, with an emphasis on information systems economics and machine learning modeling.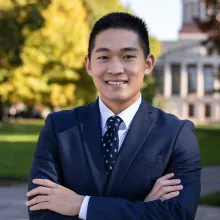 Area of Study: Information Systems
Junyuan.Ke@simon.rochester.edu
Curriculum vitae
Prior Education
Emory University, BS in Computer Science
Emory University, BA in Economics and Mathematics
Research Interests
Health IT, Open Source Software and Productivity.