Learn from research's
biggest names.
The Simon community is small by design. In fact, it is the smallest of the top-ranked business schools, which offers students the opportunity to work closely with world class scholars. Simon doesn't require a specific undergraduate major or a minimum work experience; scholars are free to choose from any of our six research focus areas.
Computers and Information Systems
Information Systems at Simon focuses on business aspects of information technology use and management. Our program emphasizes analytic and quantitative tools and techniques from economics, operations research, and decision sciences to address these issues. Research conducted by Simon students and faculty has significantly advanced the state of the art in research on information systems in general, and information systems economics, in particular.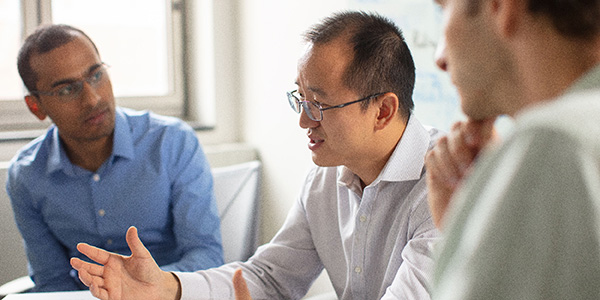 Huaxia Rui, Xerox Chair of Computer and Information Systems, teaches students.
Is software better off in the cloud?

Abraham (Avi) Seidmann and Dan Ma

Nowadays, businesses are turning more and more to the use of cloud services. Software applications and services known as software as a service (SaaS) are available online on demand. In this way, SaaS brings corporate users an alternative to modifiable off-the-shelf software (MO TS). A new study by Abraham (Avi) Seidmann, Xerox Professor of Information Systems and Operations Management, and Dan Ma '03S (MS), '06 (PhD) of Singapore Management University, shows MOTS packages still have an important role to play. They built a game-theory model to study the competition between SaaS and MOTS.

Is Good Customer Service a Popularity Contest?

Huaxia Rui, Abraham Seidmann, and Priyanga Gunarathne

Recent research by Simon faculty shows that for customers with a problem to be solved, Twitter is the way to go—as long as they have a lot of followers. In their paper, "Customer Service on Social Media: Do Popularity and Sentiment Matter?" professors Huaxia Rui and Avi Seidmann and doctoral graduate student Priyanga Gunarathne gathered over a half-million tweets sent to and by American Airlines, United Airlines, and Air Canada.

Upgrade Intervals Affect Profitability

Abraham Seidmann, Amit Mehra, and Probal Mojumder

In a new paper published by Production and Operations Management Journal, "Product Life Cycle Management of Packaged Software," Simon professor Abraham Seidmann and co-authors Amit Mehra and Probal Mojumder study the optimal intervals between software upgrades and analyze how these intervals change over a product's life cycle.

 
Learn more about our Computer and Information Systems faculty and their research interests: