Graduating student spotlight: Jing Du '23S (MSBA)
---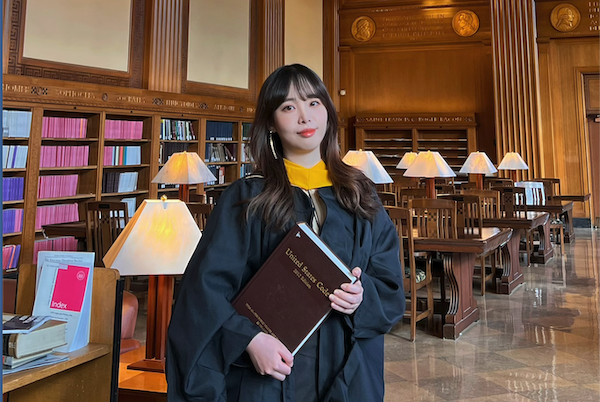 Graduating student spotlight: Jing Du '23S (MSBA)
February 14, 2023 | By Katie Mulheron
A recent Master of Business Analytics (MSBA) graduate, Jing Du shares some of her favorite Simon experiences and has some advice for future Simon students.
What are your best memories from the MSBA program?
I have lots of great memories from business school and the MSBA program. The career advisors from the Benet Career Management Center really helped me with job seeking, from tailoring my resume to getting both technically and mentally prepared for job interviews, plus exploring other opportunities in different industries. I learned a lot from the conversations with my career advisors and I am very grateful for their support throughout the entire program.
Where do you see yourself five years from now?
One of my long-term goals is to gain leadership experience, preferably within a tech company. I hope to become a senior financial or business analyst one day, leading business strategies and developing new opportunities for the company's growth.
Any advice for future MSBA students?
I recommend that future MSBA students manage their time reasonably and find a balance between intense program study and personal time. Effective time management will help you keep organized and meet deadlines for school tasks and improve your learning efficiency, well-being, and mental health.
Share a cool fact about yourself.
I am a baking lover who takes pleasure in the challenge and dares to innovate. Baking is one of my favorite hobbies, and I even had my own business (Jing's Bakery) during the summer when I was a sophomore. At that time, I not only had an extraordinary enthusiasm for making cakes and pastries but also pursued a strong aspiration for entrepreneurship. With my deep interest in business studies deriving from my entrepreneurial experience, I set my career goal as a business operation expert, and I am also working towards this goal.
To connect with Jing and other qualified MSBA graduates, contact MSBA Director Katie Mulheron at kmulhero@simon.rochester.edu.
Katie Mulheron is the Master of Science in Business Analytics Director at Simon Business School.
---
To view other blogs in this series visit the Talent Connect Main Page