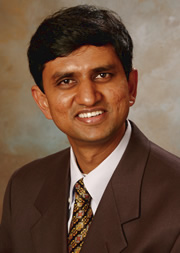 Area(s) of Expertise
Business Analytics
Business Systems Consulting
Computers and Information Systems
Health Care Management
Information Systems
Information Systems Management
Pricing
Bio
Professor Mantena currently serves as the Faculty Director for the MBA programs at Simon. In this role, he oversees Simon's Full-time, Professional, and Executive MBA programs. He teaches various analytics and digital strategy courses in these programs. His research interests are in the economics of digital and information-rich products. Prior to his academic career, Mantena worked as a sales manager for a consumer goods multinational firm and founded an aquaculture company in India.
Courses

Data Analytics

Business Modeling

Introduction to Business Analytics

Managerial Data Analysis

Managerial Decision Analysis

Managing Digital Products & Platforms

Probability & Descriptive Analytics
Research Interests

His research explores how the increasing digitization of products and services alters competition, strategy and market structure. He studies issues of pricing, product design and strategy for digital products and services. In addition, he also has research interests in measuring decision performance, revenue management and information economics.
Teaching Interests

Quantitative Modeling, Business Analytics, Management of Information Technology and Digital Product Strategy
Publications

Impact of Product and Platform Level Sampling on the Sale of Online Video Courses

Market Share Contracts in B2B Procurement Settings with Heterogeneous User Preferences

2021

Production and Operations Management, 31(3), 2022, 1290-1308

Reflections on Teaching Online

Reflections on Teaching Online

SSRN

Leadership Training In An MBA Program Using Peer-led Team Learning

2013

American Journal of Business Education (AJBE)

Co-opetition Between Differentiated Platforms in Two-Sided Markets

2012

Journal of Management Information Systems

Literature survey: Mathematical models in the analysis of durable goods with emphasis on information systems and operations management issues

2012

Decision Support Systems

Competition and Strategic Partnership between Intermediary Platforms in the Presence of Heterogeneous Technologies

2012

Institute of Electrical and Electronics Engineers (IEEE)

Literature Survey: Mathematical Models in the Analysis of Durable Goods with Applications to IS Research

2011

Institute of Electrical and Electronics Engineers (IEEE)

Platform-based information goods: The economics of exclusivity

2010

Decision Support Systems

CIST 2009: Conference on Information Systems and Technology

2009

Diagnosing decision quality

2008

Decision Support Systems

Exclusive Licensing in the Video Gaming Industry

2007

CONVERGING DIGITAL TECHNOLOGIES: AN OPPORTUNITY OR A THREAT?

2002

AMCIS 2002 Proceedings

Market Expansion or Margin Erosion: The Double-Edged Sword of Digital Convergence

2002

ICIS 2002 Proceedings

On technology markets that tip: Increasing returns, competition, and discontinuous shifts in consumer valuation

1999