Find an MBA that matches your career goals.
Choosing the best Executive MBA program for your career goals and lifestyle is an important decision. Our admissions team can work with you to determine how Simon can help you achieve your goals. Our selection process is based on your business experience, academic achievement, professional growth potential, and motivation and drive to succeed in an analytically rigorous, growth-minded program.
Application Deadlines
Our Admissions staff takes the time to get to know each applicant personally. We encourage you to reach out to us early to help you strengthen your application and identify scholarship opportunities.
Consider attending one of our Admissions events to learn more about the program.
August (Fall Semester) Start Deadlines:
| ROUND | DEADLINE* | DECISION* |
| --- | --- | --- |
| Round 1 | February 15 | March 30 |
| Round 2 | April 15 | May 30 |
| Round 3 | June 15 | July 30 |
| Round 4 | July 15 | August 15 |
*by 11:59 p.m. ET
In addition to the deadlines above, we accept applications on a rolling basis. The sooner you apply in any of the rounds, the sooner you'll hear back from us.
GAIN MORE 
THAN JUST BUSINESS SKILLS.
 Preferred Candidate Profile
Managers preparing for the next phase of their career, promoting change in their organization, increasing their business performance, or redefining their personal goals. 10–15 years of experience preferred. Simon's Executive MBA is a non-visa sponsoring program. 
If you have less work experience or prefer in-person study, explore Simon's Professional MBA program. 
  No GMAT/GRE Required
Simon offers the option to apply without a GMAT/GRE/Executive Assessment score! Schedule a chat with a counselor to learn more.
 Tuition and Scholarships
Tuition is $95,085 plus program fees, which cover required course material, software, meals on Saturday class days, events, and other expenses associated with the program. 
Merit scholarships are available for all qualified candidates. Learn more about scholarships for active duty and military veterans, nonprofit professionals, and University of Rochester employees and alumni below. In addition, candidates may earn a scholarship to the EMBA program by participating virtually in our annual case competition and Simon Games scholarship competition.
There are also a variety of loan options available for part-time students. Please contact our office at admissions@simon.rochester.edu to learn more.
Explore Scholarships

Application Requirements
Current résumé

Two required essays (500-word limit)

College transcripts

Two professional references

$90 application fee (

contact us

for a waiver)

Optional: GMAT or GRE test results

Optional: Video Essay
Build skills that will take you to the next level.
The program curriculum was designed to help you strengthen and build your analytical skills so you can begin advancing your career from day one. Executive MBA students meet each Wednesday and two Saturdays per month.
 
Click on each tile for a brief course description (note: this chart represents a sample academic schedule and is subject to change).
STR 401
Managerial Economics
STR 401
EXP 420
Managerial Decision Analysis
EXP 420
STR 403
Organization and Strategy
STR 403
ACC 401
Corporate Financial Accounting
ACC 401
ACC 410
Managerial Accounting and Performance Measurement
ACC 410
OMG 402
Operations Management
OMG 402
MKT 402
Marketing Management
MKT 402
EXP 476
Contemporary Marketing Strategy
EXP 476
FIN 402
Capital Budgeting and Corporate Objectives
FIN 402
FIN 413
Corporate Finance
FIN 413
EXP 485
New Venture Development
EXP 485
STR 421
Competitive Strategy
STR 421
EXP 422
Managerial Data Analysis
EXP 422
CIS 401
Information Systems for Management
CIS 401
STR 422
Game Theory for Managers
STR 422
Course spotlight: EXP 485
New Venture Development serves as the capstone course for the program. Whether you work for a multinational corporation, a non-profit organization, or a start-up company, an entrepreneurial mindset is vital to success. In this culminating experiential course, you will apply the frameworks learned in your earlier core classes to drive both short- and long-term growth of your own new venture.
Three elective courses are also part of the degree requirements. Students may select from the wide array of electives offered at Simon, including international immersions.
Virtual courses. In-person experiences.
If you choose to take Executive MBA classes online, you will be provided the opportunity to participate in three in-person events to complement your online coursework and help you build meaningful relationships with your classmates and Simon faculty. These residencies enrich team interactions and leadership, provide valuable networking opportunities, and augment classroom learning through company visits, professional and career workshops, and guest lectures from industry experts.
Experts who will lead you into your professional future.
Simon faculty are known for being unabashedly analytical and bringing the cutting edge science of business to the classroom. Simon professors excellence in academic research, instruction, and innovation help keep the spirit of debate alive, reminding you that great minds do not always think alike. Their scholarly insights will challenge your assumptions, and build your expertise for success in today's business climate.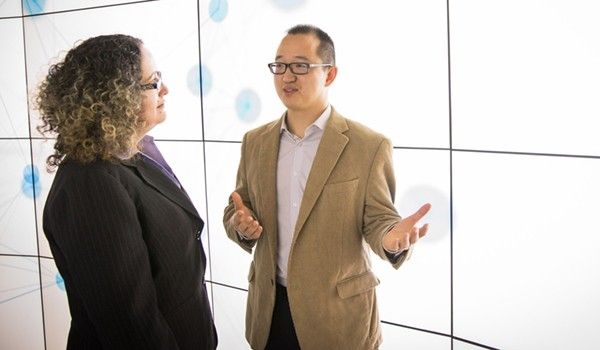 Gain hands-on experience for a global business world.
American business is part of a complex and interdependent global economy. In 1986, recognizing the opportunities for sharing resources and experiences, Simon Business School became the first accredited US business school to establish a European Executive MBA program. Simon's Executive MBA Program in Bern, Switzerland, is offered in collaboration with the Institut für Finanzmanagement at the Universität Bern. The partnership adds a global perspective to both the Rochester and European programs, as Rochester-based EMBA students take courses with Bern students during their four-week residency in Rochester. Learn more.

At Simon, we believe that the best way to prepare for a global business world is to experience it firsthand. Our international immersion elective courses enhance your global awareness and better equip you to conduct business outside American borders. Learn more below about our immersion opportunities in India, Israel, Switzerland, Singapore, South Africa, and South Korea. Please note: some immersions are offered every other year. 
Explore Immersions Below
India: International Macroeconomics

Get an immersive experience of India's culture, including business practices and traditions, with in-India coursework to support experiences. Class sessions held before departure will lay the foundation for monetary and policy effects in India and worldwide, leading to a richer experience when students are immersed in the culture through company visits, interactions with local business owners, and events.

Students will attend classes in Delhi and Mumbai where local alumni and businesses will be encouraged to join, further enriching the experiential learning. The immersion will allow students to experience the different business climates in New Delhi, Jaipur, and Mumbai and cultural adventures in Delhi and Mumbai, the splendor of the Taj Mahal, and the palace and marketplace in Jaipur.

Israel: International Business Practicum

Israel is fast becoming one of the most innovative countries in the world with the highest per capita number of startups. This immersion course will provide first-hand understanding of how entrepreneurship and innovation are reshaping the country's emerging economic profile. Students will be introduced to Israel's rich history and the impact of its entrepreneurial ecosystem. Students will experience hands-on development of projects in partnership with an Israeli startup looking to expand into the US market.

Its growing strength in innovation has led a large number of international organizations to open new R&D and product development operations in Israel. Past company visits have included Intel, Nokia, Jumpseed, NGT3 Incubator, and Arbe Robotics.

Singapore: Business, Government, and Society

As the world's economic epicenter continues to shift south and east, never has it been more important to understand Asia, its diverse markets, and the varied approaches to leading and operating a business. This course introduces students to Asian business by studying in Singapore, learning about Singapore, and discussing the different Association of South East Asian Nations (ASEAN) markets. 

Through a series of case discussions, guest lectures and panels, site visits and self-directed field observations you will get an up-close look at one of Asia's true success stories. Key to this story is government's role in creating a business friendly and open market, driving innovation and entrepreneurship, educating and training a workforce of five million people, long-term urban planning, and more. Parallels to neighboring ASEAN markets will be highlighted including what has been called the ASEAN management model. By the end of this course, you will understand the Singapore success story and why this island nation has become home to so many MNCs, expatriates, and research and innovation centers.  

South Africa: Doing Business in South Africa

South Africa is the largest economy in Africa. This immersion allows students to analyze the risks, rewards, and challenges associated with doing business in South Africa. Through academic, professional, and cultural experiences both in the classroom and in-country, students will gain an understanding of the landscape and framework for evaluating opportunities in South Africa.

South Korea: Managing in Transition Markets

This course examines the challenges and opportunities that firms face working in emerging and transitioning economies. This immersive learning experience offers the opportunity to look through the lens of South Korea's historical context, its economic path, as well as its social and cultural climate to gain a deeper understanding of today's business environment.

Learning objectives will focus on the complex interplay between macroeconomic, political, and social factors within the context of the competitive landscape and current market conditions. Students will learn strategies employed by South Korean firms and western organizations as they operate in a global marketplace.

Switzerland: International Finance

Explore European business and culture in the heart of one of the financial capitals of the world. As students travel to Zurich, Bern, Thun, Lucerne, and other Swiss cities, they will learn about the risks and rewards facing firms that operate in international financial markets. The course is comprised of classroom sessions (often overlooking beautiful views of the Swiss countryside), guest lectures by leaders of international businesses, company visits, and networking events.

Throughout the week, participants will interact with Rochester-Bern Executive MBA and UBS students and will gain an understanding of Swiss culture. The company tour portion of the program includes organizations such as Swiss Reinsurance, SwissPost, Investas AG, and other international financial institutions.
Connect with us!
Learn more below about experiencing a class, attending a webinar, earning a scholarship, and more!
Questions for the Admissions team?
Contact us at admissions@simon.rochester.edu
Attend an event or schedule a visit.
Stay connected with Simon through our interactive webinars and virtual events. From admissions tips, program reviews, and sample classes to faculty and student discussions, we will provide you with an in-depth look at the Simon experience. Plus, attendees of our live sessions will receive an application fee waiver. 

Explore Events
Chat with an admissions representative.
Have questions about Simon's Executive MBA program? Need help with a question on the application? Wondering if you're eligible for scholarship support? Curious about how to balance coursework and the demands of being a working professional?
April Marroquin, associate director of recruitment, can answer all of these questions and more!

Schedule your 15-minute conversation today »
Win a scholarship.
Participate in our Simon Games business simulation competition to obtain insight into the Executive MBA program coursework and learn and refine skills such as problem solving, critical thinking, communication, and more. Winners receive scholarships toward their tuition.