A gateway to better business decisions.
The Simon Professional MBA program develops your ability to make strong business decisions by taking an economics-based approach. In as few as two years of coursework, you'll gain the benefits of the full Simon MBA experience, including our analytically rigorous curriculum, career development resources, and world-renowned faculty. The program allows flexibility for students to pace the program to best fit their personal and professional needs.
Take the next step toward your future.
Invest in your career with a Simon Professional MBA.
Flexible

Complete at your own pace starting in January or August
Part-Time

Weekday evening classes on campus (one session each week, per class)
Customized

10 areas of specialization
Next Application Deadline:



DECEMBER 1
We are accepting applications for 2024 entry! At Simon we have rolling admissions, which means you can apply at any point in an application round and applications are read as they are received. If you apply earlier in a round, you're likely to receive your decision before the notification deadline for the round you're applying. We look forward to reviewing your candidacy!
Best chance for admission
Merit-based scholarships available
No GMAT/GRE score required
Apply for FREE (a $90 value)
GET TO KNOW US
Questions about our Professional MBA program or what makes the most successful application? Receive the latest information about Simon Business School, our PMBA program, the application process, and more!
Fill out this form and we'll get back to you as soon as possible. We're excited to help you navigate your Professional MBA journey.
An MBA from the top-ranked school that pioneered STEM.
As a top ranked b-school, Simon's analytical curriculum is driven by our mission to help our students develop an exceptional level of clarity about business and about themselves. Simon was the first school to offer a STEM-designated full-time MBA option regardless of specialization, and the Executive MBA features this prestigious designation. Business is interconnected, and a STEM-designated degree indicates analytical rigor to employers and will set you apart from the competition.

There is no better place to advance your professional future than at Simon.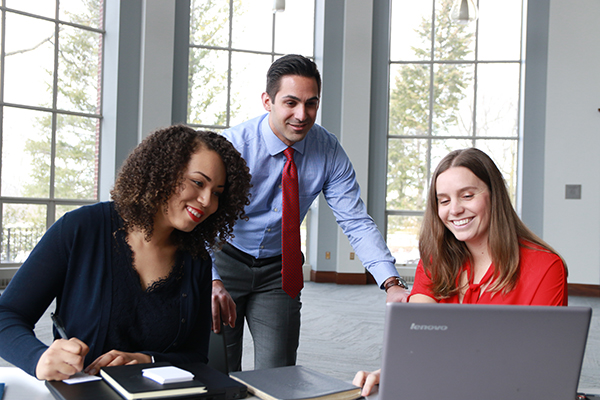 I would not be where I am in my career without my MBA from Simon. Since graduating, I have not only been able to change industries, but I have also been able to accelerate my career growth. As a student who began the program with no business background, the skills I learned from my classes, instructors, and peers have set me up for success. Simon gave me the confidence to take the next step in my career, and I fully believe that enrolling in the PMBA program was one of the best decisions I have ever made!
Maggie Remynse '18S (pictured, right)
Vice President of Curriculum
DataCamp
#1
Part-Time MBA Program
Outside Of New York City
U.S. News & World Report, 2022
#3
Part-Time MBA Program
In New York State
U.S. News & World Report, 2022
#43
Best Part-Time MBA
In The US
U.S. News & World Report, 2022