Simon Games
We're investing a half-million dollars in scholarships for prospective business school candidates.

During Simon Games, you will take part in a simulation that provides you with the opportunity to make strategic decisions to improve a company's performance—all while competing for a full-tuition scholarship!
Depending on your program of interest, your simulation will involve one of the following:
Acting as a CEO, making decisions on marketing, distribution, and manufacturing of a product

Acting as a brand manager, utilizing analytic techniques to formulate a strategy to improve a brand's performance

Acting as a stakeholder in a company, analyzing an industry and shaping your company's success through strategic decisions amid dynamic forces

Emerge as a top contender and earn an invitation to present to the board—a combination of Simon staff, faculty, alumni, and current students.
 
Learn more at our upcoming information session:

Thursday, October 19
12:00 – 12:30 p.m. EDT
Attend the information session live and you'll receive a code for 50% off the Simon Games registration fee (a $15 savings)!
Build your résumé while practicing business school projects work.

Engage in experiential learning—a popular business school learning model.

Gain valuable marketing, distribution, and manufacturing experience.

Engage with the Simon community.

Visit campus if selected to report to the board.
Grand prize winners receive a full-tuition scholarship.
All finalists who report to the board are guaranteed tuition scholarship support.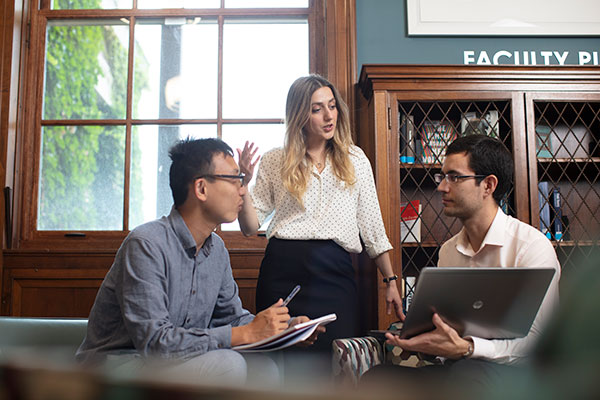 When should you play?
Simon Games is now open to more prospective candidates and programs than ever before, offering both fall and spring competitions.
To determine which is right for you, locate the program you are interested in and follow the link below it for additional registration details. You'll also find important dates, eligibility criteria, and other essential information.
Fall Games
Full-Time MBA - two-year, STEM-designated, ten specializations

Professional MBA – part-time, self-paced, each course meets in person one night per week*

Full-Time MS – STEM-designated specialized master's programs in Accountancy, Business Analytics, Finance, and Marketing Analytics.
Spring Games
Professional MBA – part-time, self-paced, each course meets in person one night per week*

Executive MBA – part-time, two-year, high-flex schedule— in person, online, or a combination of both.

Online MSBA – part-time, online, for professionals
** Reserved for PMBA candidates considering an August (Fall) enrollment.
Registration opens later this fall.
Attend an information session to learn more.
Game Details
Each game is a simulation-based competition.
Each game (fall and spring) has different challenges—player groups broken out by program of interest.
Participants will compete against the computer.
The simulation completion times vary depending on program of interest—typically between 1 – 5 hours per week.
At the end of the game, the individual cumulative balanced score will be tabulated.
Top participants from each player group will be invited to the final round.
Past Winner Spotlight
Martina Benedict '24S (MBA) Professional MBA Program

KRC Research, part of the Weber Shandwick Collective Communications Research Consultant

"I had always thought I might want to get an MBA someday, and Simon Games gave me a peek into the program. Participating confirmed that pursuing an MBA was the right move and gave me the confidence to officially enroll. Winning gave me the financial ability to make my dream a reality."