Learn from research's
biggest names.
The Simon community is small by design. In fact, it is the smallest of the top-ranked business schools, which offers students the opportunity to work closely with world class scholars. Simon doesn't require a specific undergraduate major or a minimum work experience; scholars are free to choose from any of our six research focus areas.
Accountancy
Our faculty view Accounting as an integral part of applied economics rather than a separate academic discipline. By studying accounting and accounting phenomena from the perspective of an applied financial economist, an accounting researcher can provide evidence that potentially affects such diverse areas as the theory of the firm, corporate finance, the economics of regulation, capital markets and capital market efficiency.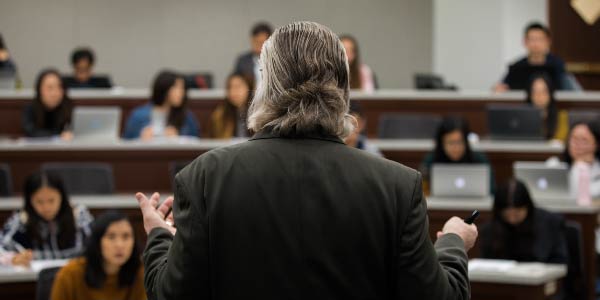 Glenn Huels, Clinical Associate Professor of Business Administration, lectures a class.
Recent Research
Accountants add value to mobile apps

Heidi Tribunella and Thomas Tribunella

From Quickbooks to Xero, small-business owners looking for mobile accounting apps face a head-spinning array of options—a situation rich with opportunity for small-practice CPAs. Heidi Tribunella, clinical associate professor of accounting, and her husband, Thomas Tribunella, professor of accounting at SUNY Oswego, wrote "Twenty Questions on the Sharing Economy and Mobile Accounting Apps," for The CPA Journal, published by the New York State Society of CPAs. In it, they urge CPAs who advise small businesses to become experts on accounting apps.

Is Mark-to-Market Accounting Really Transparent

Jaewoo Kim, Charles E. Wasley, Joanna Shuang Wu

In recent years, a growing number of public firms have voluntarily adopted mark-to-market pension accounting, which requires companies to report gains or losses associated with their defined benefit pension plans in their income statements. It is a counterintuitive move; experts expect an increase in earnings volatility because of the unpredictable effect of future uncontrollable market factors on a firm's pension expense.

Industry and Banking on a Two-Way Street

Sudarshan Jayaraman

New research by Simon professor Sudarshan Jayaraman and S.P. Kothari of Massachusetts Institute of Technology explores the impact of greater cross-border financing on domestic banks and their relationship with manufacturers. Economists have long understood the banking sector's impact on manufacturing firms.

 

Understanding Market Predictions

Bryce Schonberger, K. R. Subramanyam, and Hyun Hong

Do option prices anticipate predictable patterns in future stock returns? A new paper by Simon professor Bryce Schonberger and two co-authors suggests they do not. The authors found that option markets mechanically incorporate the current stock price rather than correct for it—even in instances where a stock price appears to be incorrect.
Learn more about our Accounting faculty and their research