Simon Blog: Talent Connect
Inside Simon: Jay Benet discusses the value of the Benet Career Management Center
---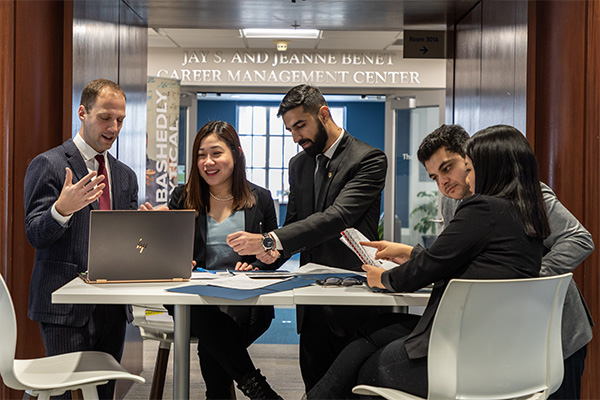 Inside Simon: Jay Benet discusses the value of the Benet Career Management Center
January 5, 2021 | By LaTanya Johns
 
Here at the Benet Center we take great care to remind students and partners alike that we are a fully-endowed career management center. We say that because it matters; because it's truly special, and undoubtedly a differentiator. Here's how. 
Simon's Jay S. and Jeanne Benet Career Management Center is dedicated exclusively to preparing our students to reach their professional goals and excel in their job search. With our support, students build confidence that distinguishes them in a competitive marketplace. We assist with résumé development, mock interviews, and individualized career counseling. 
Your goal when you apply for business school is to grow professionally and reach new heights. Our goal at the Benet Center is to help you make it happen. It's a 7 step approach that starts with assessing your skills so we know which strengths to foster and where your opportunities for growth lie. We'll help you develop a plan, get to know you personally, enhance your skills, and point you in the direction of the right opportunities to get you where you're trying to go. We'll help you network, build professional connections, and align with alumni who can help you on your path. 
The Benet Center builds a net of support around every student, and that support helps to propel students along their chosen career paths. And we do it all thanks to a generous endowment that allows us to provide these dedicated, in-depth services to every Simon student. 
Watch the video to hear directly from Jay Benet himself on the value the Benet Center provides, and why he offered the endowment that makes this work possible.
Ready to learn more about Simon and how our Career Management team can help you reach your professional goals? Read about our approach, or contact us today. 
---
LaTanya Johns is the Assistant Director of Professional Development at Simon Business School's Jay S. and Jeanne Benet Career Management Center. 
---
To view other blogs in this series visit the Talent Connect Main Page