Explore Simon's longstanding commitment to equity, diversity, and inclusion.
---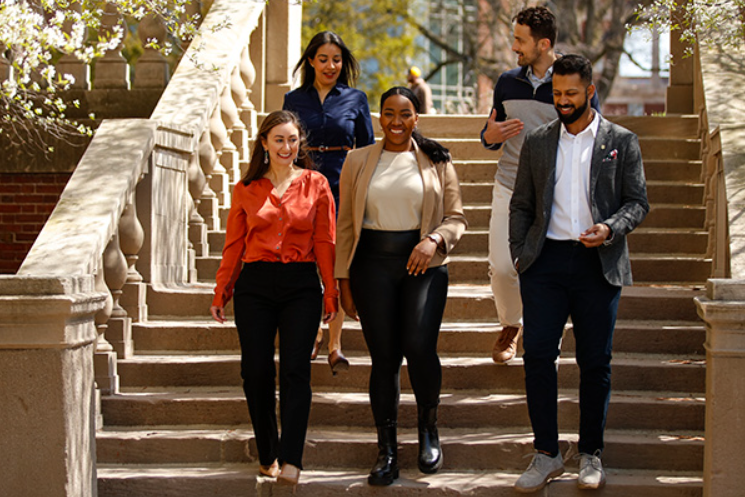 Diversity has always been championed and celebrated at Simon. In 1968, we were the 4th school to join The Consortium for Graduate Study in Management, and today we have one of the most diverse student bodies among US business schools. In fact, our MBA program was recently ranked the No. 2 most diverse among top-fifty business schools by U.S. News & World Report (2022). We also recently updated our EDI action plan, which underscores our collective commitment to focus on equity, diversity, and inclusion (EDI) in everything we do.
Simon's dynamic student body represents cultures and ideas from all over the world. Consider the following ways students get involved and have an impact during their time at Simon:
Just a few weeks ago, MBA students in the Class of 2024 participated in the sixth-annual David Reh '67S (MBA) Day of Service Habitat for Humanity build during MBA Orientation week. Our incoming MS students also lent a hand in with several local organizations during a Simon Serves volunteer event.

Diversity and educational clubs are designed to celebrate and educate the Simon community. Broaden your worldview and get involved through Latin American Students of Simon, Asians in America, Simon Black Student Alliance, Simon Women in Business, and more!

Simon Volunteers' Secret Santa Program is a beloved and longstanding tradition. The community initiative provides gifts for children and families in the Rochester area each year during the holiday season. In 2021, the program supported 189 children with the more than $16,000 raised at Simon's annual Fall Ball fundraiser.

Simon's Diversity and Inclusion Center of Excellence—which includes several student clubs and organizations—exists to foster a community atmosphere of mutual respect by promoting cultural awareness, leading responsible dialogue, and inspiring social change. It plays an important role in the student experience by encouraging the entire Simon community to come together to celebrate individual and cultural differences and giving students a chance to walk in each other's shoes.

Simon MBAs worked with 65 6th graders in the Rochester City School District (RCSD) through P.I.E.C.E.S., an educational equity program created by Simon MBAs that provides students with contexts for meaningful learning and focuses on three main lessons: Growth Mindset, Finance, and Entrepreneurship.
Simon's annual Diversity Conference is October 7–8. This signature event gives prospective MBA candidates the chance to learn more about the opportunities available at the school, as well as meet with students, alumni, staff, and faculty. If you can join us in Rochester this fall, register with the links below based on your program of interest:
    - Full-Time MBA
    - EMBA or PMBA
Learn more about our Full-Time MBA and Full-Time MS programs by reviewing recent webinar recordings—and be sure to check out upcoming webinars as well! They are a great way to keep in touch with Simon and get a feel for our close-knit community, regardless of your proximity to Rochester. Remember, if you attend a webinar live, you will receive an application fee waiver ($90 value) to use when you apply.
Don't hesitate to contact the Admissions Team with any questions you have!